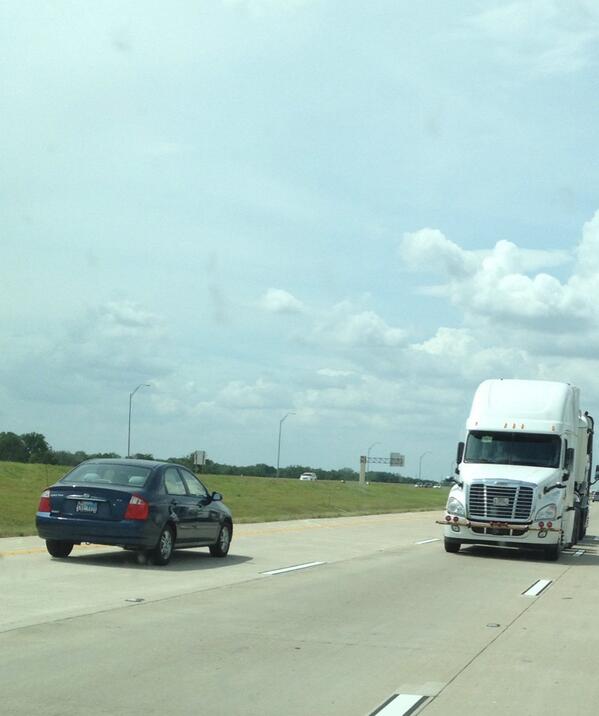 How would you like to being traveling at 80 mph on Toll Road 130 in Austin and see what looks like a huge 18-wheeler traveling ahead of you…in reverse!
The truck was really traveling about 75 mph and  was being towed by another truck.  When I first saw this, I couldn't see the truck doing the towing.  We were in the  right lane, the truck was in the middle lane, and you can see the blue car in the  left lane.  It startled  me at first, but then I realized that the trucks were only doing  their part in "KEEPING AUSTIN WEIRD."
I guess it would have really scared me if I thought the truck was coming toward me instead of traveling in the same direction.
Pam sometimes misses some of the sights we encounter as we travel.  She is often busy doing……
her nails!!!
But, on this occasion, she was finished with the fingernail polishing, and was able to take  the picture on the toll road.
When we visit in Austin, we often  witness many people who are really doing their part in "keeping Austin weird."  Quite often they don't seem to know whether they are coming or going…just like the truck being towed.  In truth, I believe they have a general idea of  where they are going.  THINGS ARE NOT ALWAYS  AS THEY SEEM!
*****
Sometimes, we are busy chasing fame and fortune and when we begin to achieve either or both, it seems we are successful.  IT MAY BE WEIRD, BUT THINGS ARE NOT ALWAYS AS THEY SEEM.  We focus our minds on all the things we achieve.  We have our hands full of the things fame and fortune can provide.  After all of our hard work to fill our life with "stuff," we still feel empty and unsatisfied.  Will more "stuff" make us feel better?  No matter how hard we try we cannot fill the emptiness that still exists.  Why is this?  When God created us, he placed in us a "void."  That void can only be filled with a relationship  with  Him.  Now, here is the "weird" part.  Our hands can only be filled with the important things when they have been emptied.  It is then that we are humbled and lift those empty hands toward heaven to be filled by a loving God who wants only the best for us.  GOD CANNOT FILL HANDS THAT ARE ALREADY FULL.